CY4OR Legal, one of the UK's leading eDisclosure and digital forensics providers, has announced the re-branding of the company.
The re-branding follows a period of expansion for the business and sees the company trading under the new name CYFOR. The re-branding comprises a new visual identity and website to support its future plans, evolution and growth.
Commenting on the rebranding, Joel Tobias, CYFOR Managing Director, explained:
"Following a very successful period both in terms of high-profile investigations and revenue growth, our business has evolved to such a degree, that we no longer feel that the name CY4OR Legal accurately reflects who we are. The re-branding coincides with the our corporate growth strategy and repositions CYFOR as the go-to eDisclosure and digital forensics provider to the very top-tier law firms and corporates in the UK. It reflects our desire to emphasise the values that make us unique, based on our recognised expertise, growing resource capabilities and extreme focus on client care."
Bold, consistent and user-friendly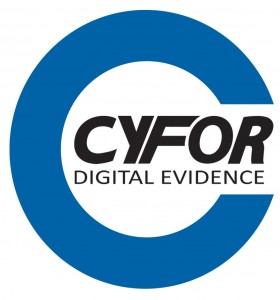 The new simplified name, 'CYFOR', and bold, forward-thinking style, were selected after undertaking an exhaustive usability review and in-depth client research.
CYFOR Head of Marketing & Communications, Muhammed Shaikh, who led the rebranding project said:
"We spent a lot of time studying our clients' needs, with this move we have closer aligned the business with its increasingly demanding corporate and legal markets."

"Whilst we hope clients like our new look, the new branding isn't just cosmetic. For instance, by replacing '4' with 'F' within the CYFOR brand name we have made it easier to use, and reflected this within a striking, clear and completely unique design. We've also developed a new website to make it simpler to search the variety of services on offer and communicate how we can – and do – deliver those services."
Reoriented corporate structure and investment
At the same time, the company has taken the opportunity to reorient its business, providing clarity and consistency. From today two distinct yet overlapping teams will drive greater strategic focus and closer client care.  A 'Civil Investigations & eDisclosure' team will provide dedicated support for companies and their lawyers undertaking civil litigation, while a 'Criminal Investigations & Business Crime' team will specialise in meeting the needs of criminal solicitors seeking to investigate evidence from a range of electronic devices.
Ryan Farber, Operations Director, said:
"Our clients are diverse: lawyers, police forces, private sector organisations, public institutions and regulators, yet our structure is, in reality, quite simple; so CYFOR's needed to communicate its strengths of delivering wide-ranging digital forensic investigations and innovative eDisclosure consultancy more clearly. CYFOR's unparalleled expertise and commitment compels us to evolve with our customers, and restructuring in this way addresses precisely where the demand comes from in our market."
Farber added:
"Along with today's rebranding we are very pleased to announce a significant investment in software. Relativity by kCura is one of the leading eDisclosure tools on the market. Bringing in this capability, along with our existing Nuix platform, allows us to offer a genuine 'total solution' to law firms through the eDisclosure lifecycle."
New identity
From today 'Experts in eDisclosure and eForensics' will serve as both CYFOR's purpose statement and strapline, to build a brand identity that reflects the core values and future strategy. It becomes central to the companies client promise having been developed in conjunction with partners and staff.
The 'CYFOR – DIGITAL EVIDENCE' logo symbol is a mixture of a highly bespoke, eye catching typeface, and has been designed to encompass the company's vision of excellence in the fields of eDisclosure and digital forensics.