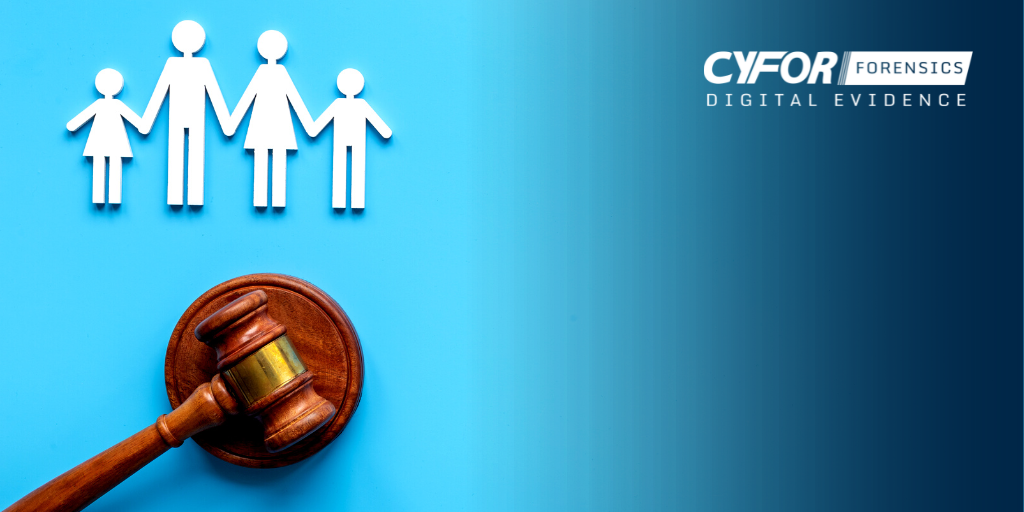 CYFOR are highly experienced in assisting a range of family law matters with Digital Forensics expertise.
Digital forensics is more commonly associated with criminal investigations, whether defence or prosecution, as well as for use in civil matters, such as litigation. However, there is now a more common requirement for digital forensic expertise within Family Law matters, especially child care proceedings.
CYFOR frequently collaborate with family law solicitors, assisting in a broad range of investigations to forensically uncover digital evidence from devices such as phones and computers. This also includes cell-site analysis, whereby records are interrogated from phone networks which can include highlighting the position of a phone on a given date and time.
Many of these cases come to light at the eleventh hour when our forensic investigators have been dispersed on an incident response basis to the other end of the country. This is an all too familiar situation and one that we are well equipped to deal with.
The information divulged from a forensic investigation can provide admissible evidence in a court of law. Everyday digital interactions between individuals, such as internet history, SMS messages and social media accounts are now sought-after digital evidence within a wide range of family law cases, including:
Matrimonial;

Infidelity;

Abuse;

Child care proceedings;

Domestic violence.
Our digital forensic experts are able to recover a wide range of digital evidence, in many investigations, including:
Internet history and emails;

Videos, pictures and audio recordings;                                              

Snapchat communications;              

WhatsApp messaging;

Facebook activity;

Twitter accounts;

Instagram accounts;

Recovery of SMS/MMS messages;

Mobile phone apps.
Case Study | Child Care Proceedings – Mobile Phone Investigation
CYFOR were instructed by a family solicitor on behalf of a council authority, involving a case of child abuse/neglect. The subsequent investigation was to ascertain whether the mother and father who stand accused had violated a court order and had been in contact during a specific time period. The information divulged would determine whether the infant should remain in the care of the local council authority pursuant to Section 31 of the Children Act 1989, be rehabilitated to the care of his mother, his father or placed with extended family members.
CYFOR received 3 mobile phone handsets in relation to the investigation and were required to forensically image all data on the handsets for examination. In conjunction with the digital evidence stored on the handsets, all related social media accounts were analysed, including messages that were sent and received on specific dates outlined by the solicitor dealing with the matter. CYFOR's digital forensic experts successfully retrieved all information required and presented the digital evidence to the family solicitor within the specified time frame.
Case Study | Child Care Proceedings – Mobile Phone & iPad Investigation
CYFOR were instructed by a council authority to forensically examine five mobile phone handsets and a tablet in an investigation revolving around the assault of a minor. The digital evidence required involved all communication between the designated custodians and parties on a date bracket that the alleged offence took place. These include calls logs, WhatsApp, Snapchat, iMessages, MMS messages, searched items and SMS messages. CYFOR retrieved the devices via secure in-house couriers and successfully completed all forensic examinations within the specified time frame and extracted all digital evidence deemed relevant to the investigation.
If you specialise in family law and require our expertise, please get in touch and one of our experienced case managers will be on hand to assist you.