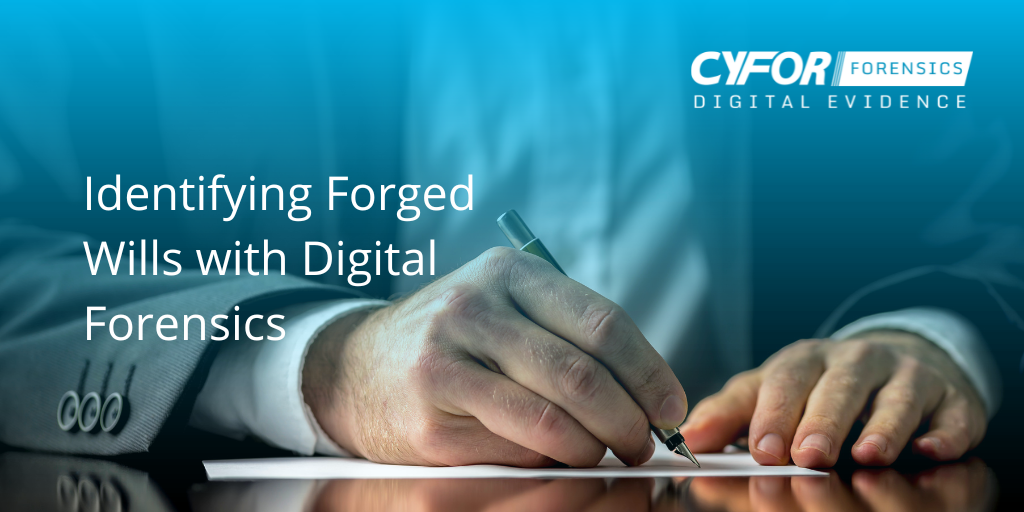 Forged wills and the accusation of forgery are becoming more commonplace. Solicitors are having to instruct digital forensic experts in such cases to determine the validity of an individual's last will and testament.
 A will can be challenged and invalidated where it can be proved a forgery. This could be due to falsified documentation or a fake signature.
Fraudulent wills typically arise under the following circumstances:
The deceased's signature on the will has been forged.
The will was not signed in the presence of both witnesses.
The last will has been deliberately destroyed.
The deceased was tricked into signing a document not knowing that it was a will.
In a case from 2019, a man who forged his mother-in-law's will in an attempt to inherit a share of her £100,000 estate, was jailed for 12 months. Brian Fairs, 77, copied and pasted a signature from Gillian Williams' will onto a forged document. His wife Julie Fairs was also found guilty of forgery and fraud and was given a 12-month suspended sentence.
The court heard Mrs Williams did not want the pair to benefit from her and cut them out of her original will. Brian Fairs' defence solicitor, Steven Young, said the scheme was "about as far from sophistication as one can imagine".
Aside from obvious forgeries such as the one previously mentioned, these types of claims and investigations can be difficult to prove, given that the deceased are no longer able to provide evidence. Fortunately, where digital forensic expertise is required, there are numerous methods to expose fraudulent digital documents.
Examining EXIF Data
CYFOR received an enquiry from an instructing solicitor regarding the validity of a will. The solicitors were presented with a digital photograph of the will, purported to be the true copy of the will as it was taken on a specific day and location, apparently validating it. On examining the EXIF data of the photograph, the identifying metadata contradicted the date stated, as well as the GPS location data. These contradicting elements bring into question the entire validity of the will.
Metadata proves will forgery
A recent High Court case has highlighted the importance of metadata examination in potential incidents of will forgery.
The case of Rainey v Weller & Ors [2021] EWHC 2206 (Ch) involved the family of the deceased Brenda Weller and a dispute surrounding her will. Weller's niece [ Ann Rainey ] and three of her grandchildren had disagreed over the validity of one of her two wills.
Brenda Weller had made a will in February 2018 instructing that her estate should be left predominantly to her niece, Ann Rainey. But a dispute arose when another will, made in March 2018, surfaced, that left Weller's estate to her three grandchildren Francesca Mapp, James Weller and Amy Weller, rather than Rainey.
Rainey argued that the second will made in March was invalid because although signed, it had not been signed by the deceased and that the signature on it had been forged.
The court heard from several experts, including digital forensic professionals, regarding the metadata that was embedded in the wills and other electronic documents, including a digital photograph taken of the second will by one of Weller's grandchildren.
Upon examining the document metadata, which reveals information about electronic files, such as the author of the document and the time and date it was created, it was found that the second will had been forged by James Weller. It was also found that the digital photograph taken of the will showed evidence of an editing tool and therefore could have been easily manipulated.
Whether you're an instructed legal professional or an individual requiring digital forensics expertise to ascertain the validity of a last will and testament, our experts are on hand to assist.