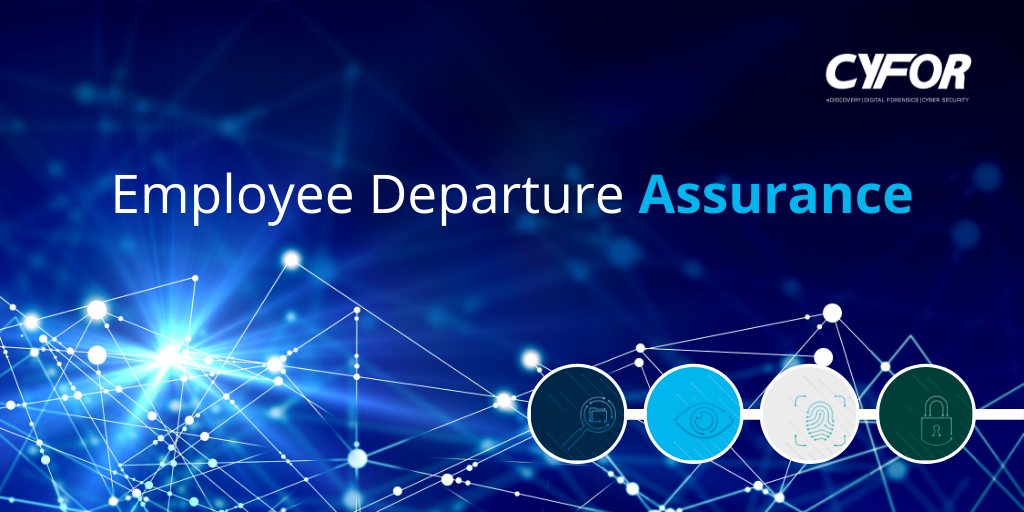 Assisting organisations with a comprehensive employee departure off-boarding process
Departing employees is an inevitable scenario that all businesses face. CYFOR offer a unique Employee Departure Assurance service to reduce organisational disruption, aid regulatory compliance and help to negate issues such as:
Personal data breaches
Credential abuse
Loss of sensitive business information
How CYFOR can assist
CYFOR assist organisations with a comprehensive employee off-boarding process. Forming part of internal risk management strategy, multiple compliance procedures and fulfilling regulatory requirements, whilst protecting company IP and safeguarding sensitive business information. Upon learning of an employee's departure, there are several steps to take to ensure a smooth exit. CYFOR can preserve a forensic 'snapshot' of the employees' company electronic devices to capture a record of user activity. Retaining the data for an agreed period of time, we have the capability to act swiftly to investigate the data captured during the 'golden hour' should suspicions arise.
A departure checklist to ensure a smooth employee departure process
Preserve information held on the employees' corporate electronic devices and electronic accounts using advanced forensic technology, including emails and user activity logs.
Store data for an agreed amount of time until an analysis is requested, or until data is authorised to be deleted.
Provide a timeline of user activity to uncover any unauthorised data transfer or other suspicious actions.
Produce data for client review, to allow identification of 'red flag' activity, such as connected storage media, access to restricted files and client lists.
Expert analysis, investigation and court-admissible reporting if required.
For more information on CYFOR's Employee Departure Assurance services, contact our Corporate Forensic Investigations team.