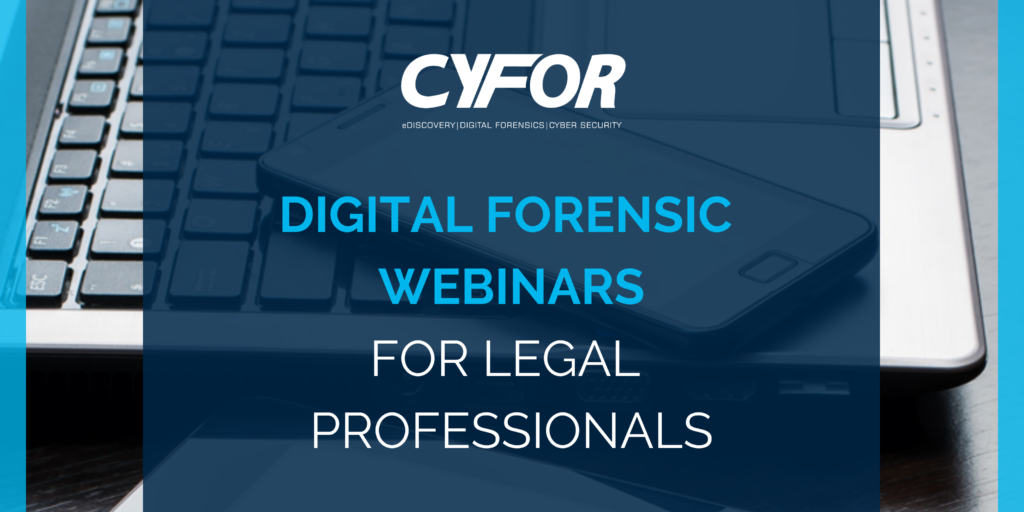 In view of the ongoing pandemic, and following Government guidelines, CYFOR are providing complimentary digital forensic webinars in place of our usual onsite seminar format.
If you're a criminal or family law solicitor looking to expand your knowledge of the application of digital forensics in legally aided matters, then CYFOR's Digital Forensic Webinars can help. We can demonstrate what data can be retrieved and how this evidence can be instrumental to your criminal cases.
During these educational webinars our expert's breakdown the core digital forensic disciplines. These include mobile phone forensics, computers forensics, cell site analysis, social media investigations, as well as talk through case studies and explain the common errors we see in relation to prosecution reports and what to look out for.
Delivered over HD web conferencing, our Digital Forensic Webinars are arranged entirely at you and your team's convenience and last between 1 – 2 hours.
Digital Forensic Webinar Topics
Our specialists are on hand to discuss various digital forensic disciplines and how they can be applied to your existing and future cases. Past topics, which can be tailored at your request have included:
The importance of adhering to forensic methodology for data preservation.
What is cell site analysis and how can it provide the evidence I need?
Mobile phone forensics – what data can be recovered?
Exploring digital media investigations
Computer forensics – The power of digital evidence
How much forensic detail can audio visual forensics provide?
Identifying lines of enquiry that have been missed or omitted by the police.
What is an IP address and what does it mean to your investigation?
Has your relevant digital evidence been disclosed properly?
Understanding social media – The reliability of its evidence.
What evidence can be gleaned from router interrogation?
What is a Wi-Fi survey and how can it assist your case?
Obscure entries within call data records.