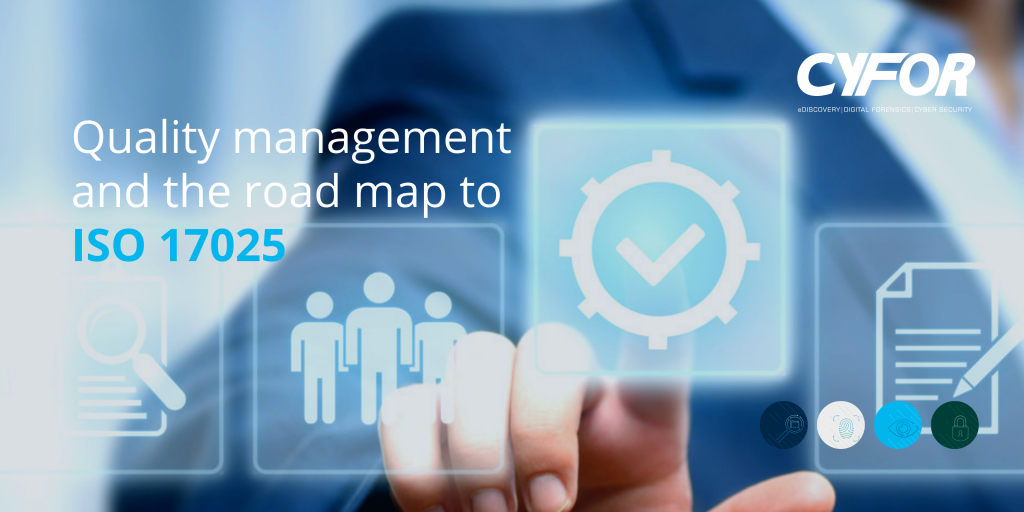 With the appointment of a dedicated quality manager, CYFOR has a clear strategy in achieving ISO 17025 accreditation.
With an ongoing mission to achieving ISO 17025 accreditation, CYFOR have recently appointed Ryan Wetherell as Quality Manager. Ryan is an experienced Quality and Operations Manager having previously managed ISO 17025 accredited and Ministry of Justice approved forensic testing laboratories. He is a member of the Chartered Society of Forensic Sciences, the International Society of Forensic Genetics and holds a seat on the British Standards Institute Technical Committee for Forensic Science Processes which is responsible for the preparation, publication and review of British Standards for forensic science services. In addition to his work at CYFOR, Ryan guest lectures in Forensic Genetics and Quality Management at Teesside University.
Ryan's main objective is to transform CYFOR's approach to Quality Management in developing, revising and implementing the organisation's policies and procedures in order to achieve compliance with BS EN ISO17025:2017 and the Forensic Science Regulators Codes of Practice and Conduct.
Quality Management is very much at the heart of CYFOR as an organisation
Currently, CYFOR operates a BS EN ISO9001:2015 certified quality management system which demonstrates the ability to consistently provide products and services that fulfil customer and regulatory requirements. The standard covers all processes within an organisation from how a purchase order is raised through to how our experts write a report for the court. There are also requirements within ISO9001 to formalise investigations into non-conforming pieces of work and complaints and perform extensive root cause analysis to prevent a recurrence.
Furthermore, CYFOR are also certified to BS EN ISO27001:2013. Certification to ISO27001 demonstrates that an organisation has in place policies and procedures governing legal, physical and technical controls to safeguard company and client information. In addition to ISO certifications, CYFOR holds Cyber Essentials Plus accreditation; an assurance framework which demonstrates a commitment to significantly reducing an organisation's cyber security vulnerability.
ISO 17025
The international standard ISO 17025 is a set of requirements for testing and calibration laboratories, including digital forensic laboratories. In addition to, and due to the wide range of industries that ISO 17025 is applicable to, UK based forensic service providers are also encouraged to gain accreditation to the Forensic Science Regulator's Codes of Practice. The Codes of Practice were written as an extension to ISO 17025 and are an additional set of requirements specific to the provision of forensic services.
The certifications that the organisation currently hold are synonymous with a large proportion of the requirements of ISO 17025 and the Forensic Science Regulator's codes which places CYFOR in a strong position as it progresses its application for accreditation. Over the next six months, the Quality Team at CYFOR are working through all the organisation's processes and procedures to determine if there are any areas in which the organisation is non-compliant. Following this review, the intention is for CYFOR to have its initial assessment by the accreditation body UKAS, within the next twelve months.
The speed at which CYFOR are moving towards accreditation is only possible through the investment that the company is putting into quality management. We have procured new electronic quality management software, begun a recruitment drive to expand the quality team and devised quality management training which is being delivered to all employees.
Quality Management is very much at the heart of CYFOR as an organisation, and by achieving accreditation to ISO 17025 and the Forensic Science Regulator's Codes of practice and Conduct, CYFOR can continue to reassure its customer's that it very much remains an industry leader in the provision of digital forensic services.