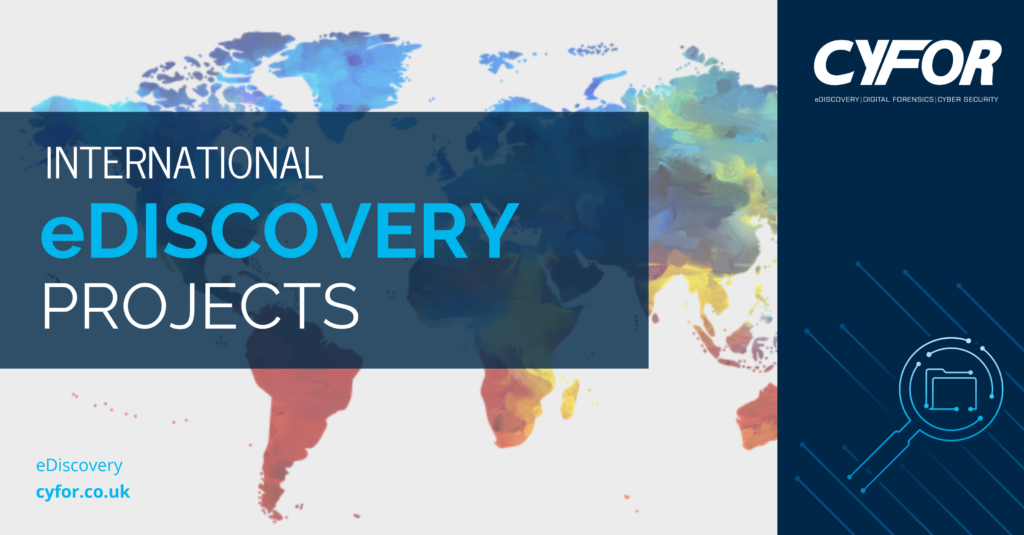 With over a decade of experience, CYFOR have been instructed on a vast range of complex international eDiscovery projects
International eDiscovery Projects Overview
Multiple Locations | Europe:
A large scale high-profile project took place in 2014, involving data collection across the UK and overseas in multiple European countries, including France and Germany. The project involved a collection from ninety-five custodians, involving two hundred and fifty-six devices, varying from laptops, hard drives and mobile phones.
Our onsite investigators included an eDiscovery Project Manager, who was able to oversee the entire project through each stage of the EDRM model. This involved carrying out the onsite acquisitions, hosting and facilitating the Early Case Assessment, processing the data then managing the reviewers on the review platform.
By holding an Early Case Assessment meeting, we were quickly able to determine the exact file types that were required from each device allowing us to exclude the irrelevant data. This culled the data down at the earliest stage, reducing the time processing took into Relativity and the overall ingestion cost. We managed twenty reviewers who were set up on the review platform, all from different parties with different permissions to the data.
Moscow | Russia:
CYFOR were instructed to examine a laptop computer as a result of network monitoring alarm activations designed to identify illegal content entering a computer via the Internet, a removable storage device or optical disc. The alarm activations were at an office in Moscow and therefore the investigation would have to happen onsite.
In Russia, the possession of child pornography with the intent to distribute it is prohibited by the Russian Penal Code. However, simple individual possession of child pornography is not prohibited; therefore, the investigation focused on where these images had come from and if they had been distributed.
The alarms identified five images but the investigation established that they had come from an archive file containing an additional 600 plus illegal images which had been downloaded onto the laptop and extracted from the archive which had activated the alarm. These images were then moved from the laptop to a mobile device, which again activated the alarm, and this action was sufficient to establish distribution.
Kiev | Ukraine:
In July 2014 CYFOR was instructed by the company of a Ukrainian industrialist and political figure involved in multi-million-pound litigation being fought in the English courts.
Given the client's extreme concerns regarding data confidentiality, CYFOR dispatched 2 senior investigators to the Ukrainian capital of Kiev within 24 hours, for an investigation which required an onsite data collection in excess of 30 days. This process was undertaken during a period of political unrest, which was at the time, highly publicised.
This complex litigation involved 2.5 TB of data stored on multiple data sources from a number of countries. The disclosure exercise involved 450 multi-lingual keywords resulting in 1.7 million keyword responsive items in 3 different languages.