---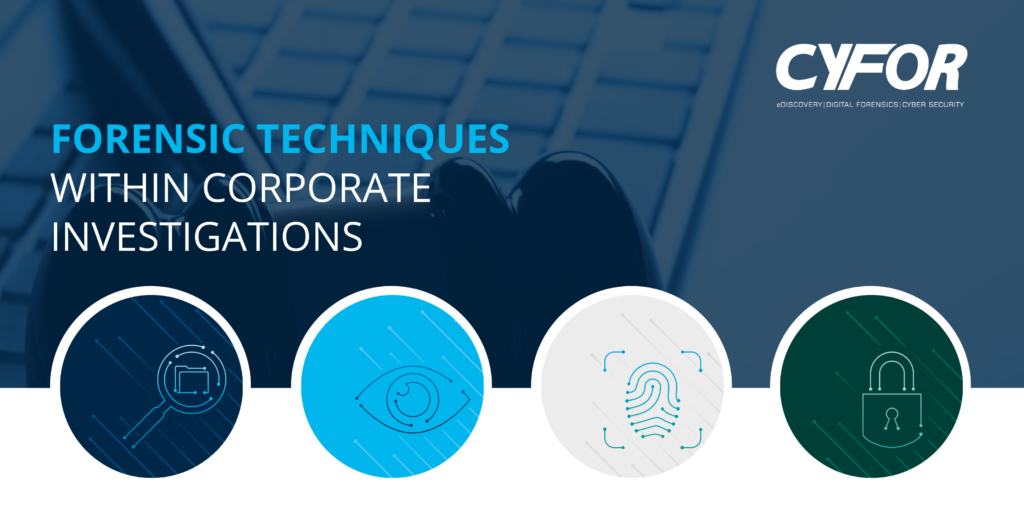 An overview of how eDiscovery and Digital Forensic techniques play a part within Corporate Investigations
---
It is becoming more frequent that CYFOR are interacting with organisations, law firms and individuals who require assistance in commercial and corporate forensic investigations. These investigations can vary from anything such as data theft, intellectual property theft, employee investigations, pre-litigation or financial investigations. Due to our extensive knowledge in both Digital Forensic techniques and eDiscovery processes, we have been able to combine our expertise to provide assistance in these matters.
Typical scenarios of corporate investigations include:
---
"An employee left the company 2 months ago and we have suspicion that he has copied all of our contacts and confidential data onto an external drive and taken it with him. Can you examine his old computer to see if they have left any trace of stealing the data?"

"An existing employee is suspected of misusing company computers during work time. The employee is thought to be browsing various social media sites and other unauthorised websites during working hours. Please can you investigate?"
---
What digital forensics skills can we provide?
CYFOR specialises in forensic collections of data and preserving document metadata to ensure the highest degree of integrity for use as admissible evidence. Our digital forensic experts are specialised in the recovery of deleted data and internet evidence. CYFOR use specialist tools to search and retrieve vital pieces of evidence which can be later used in court. Analysis of internet use can also be carried out to identify activity around key dates and times alongside any evidence of file downloads. In addition to internet evidence, experts can carry out an analysis of USB activity. Gathering evidence to support data theft where it is suspected that documents have been copied onto another device.
CYFOR's technical staff carry out onsite data collections around the world. In some instances, these collections need to be carried out covertly by our highly trained specialists, who can handle these collections in a discreet and professional manner. We can work alongside our clients to determine exactly what data they are looking for which will then determine the investigation that we carry out. In some cases, it is unknown exactly what is being looked for and in these situations, we would carry out a thorough forensic analysis of the computer devices.
---
What eDiscovery skills can we provide?
CYFOR offer the most up to date, industry-standard processing tools, allowing us to process data fast and efficiently. In some cases, there are requirements that the client may want to run keywords over the data they are investigating. There could be a scenario where they are looking for a specific document, for example, an email sent from a person on a particular date, or simply to locate all Word documents containing a phrase or keyword.
We offer the powerful online review platform Relativity, which provides highly advanced searching alongside analytical capabilities. This ensures the investigation of data is executed with ease and efficiency. Allowing a client access to their data online ensures that they have secure access around the clock, and at a time convenient to them. This also provides clients with the opportunity to carry out their own private investigation of the data. All the time with CYFOR by their side, providing them with the support they need to find the data they are looking for quickly and sufficiently.
Our experts can work alongside individuals, work through the requirements of the case and provide guidance on how best to obtain the data they are looking for, whether this is through keyword searches, concept searches or use of analytics features such as clustering and near-duplicates. CYFOR's expertise in forensic techniques combined with leading eDiscovery software provides an all-encompassing service, tailored to meet the requirements of each individual investigation.