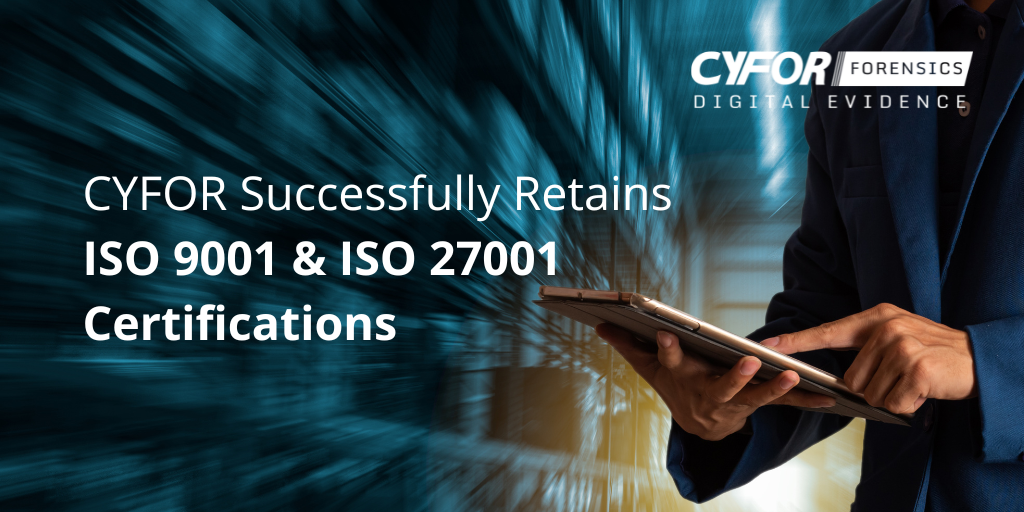 CYFOR has successfully retained certification against ISO 9001:2015 (Standards for Quality Management Systems), and ISO 27001:2013, an internationally recognised framework for best practice in Information Security Management.
Digital forensic specialists CYFOR have once again retained its ISO 9001:2015 and ISO 27001:2013 certifications following a successful audit. CYFOR has been ISO 9001 accredited since 2010 and has consistently reviewed and refined its Quality Management System to ensure the best possible results are delivered for clients. The company's ISO 27001:2013 accreditation confirms that its Information Security Management System (ISMS) meets the high standards demanded by the assessment body, to ensure information security processes are in place.
In response to the successful ISO audits, Commercial Director Lawrence Perret-Hall said:
"We're extremely pleased with the success of our latest audit, which sees us retain certification against the internationally-recognised ISO 9001 quality management standard, as well as ISO 27001 for Information Security Management. Our commitment to delivering the best possible service for our clients has seen us invest heavily in building robust frameworks, processes and capabilities to support this, and to see our efforts recognised through certification is a fantastic achievement."
ISO 9001
The quality management standard, set by ISO (the International Organisation for Standardisation), is part of the ISO 9000 family of quality management standards and specifies requirements for a Quality Management System (QMS) covering all aspects of process planning, application, and monitoring. Accreditation to ISO 9001:2015 is given to organisations that demonstrate an ability to consistently provide services that meet customer and applicable statutory and regulatory requirements while enhancing customer satisfaction through the effective application of the system.
ISO 27001
CYFOR understand the critical need for appropriate controls in risk management, especially when dealing with important information, such as client data and digital evidence. ISO 27001 is an internationally recognised framework for best practices in Information Security Management Systems (ISMS). Accreditation to the ISO 27001 standard sets the requirement for ISMS certification and covers best security practices to effectively manage the integrity of information assets, confidentiality, and the minimising of information security risks.
About ISO
The International Organisation for Standardisation (ISO) is an independent, non-governmental international organization with a membership of 165 national standards bodies. Through its members, it brings together experts to share knowledge and develop voluntary, consensus-based, market-relevant International Standards that support innovation and provide solutions to global challenges. Founded in 1947, ISO has published more than 19,500 International Standards covering almost all aspects of technology and business, from computers and energy to food safety, agriculture, and the environment.