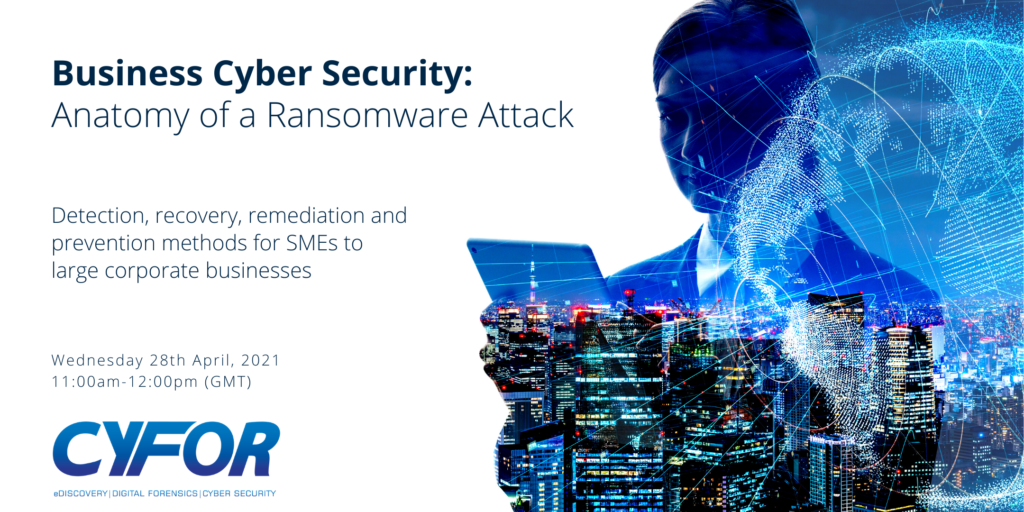 Do you want to know how best to protect your business from the threat of ransomware?
Join our Business Cyber Security Webinar: Anatomy of a Ransomware Attack, where our experts will break down detection, recovery, remediation and prevention methods.
About this Event
This business cyber security webinar will explore the anatomy of a ransomware attack and what methods a business can implement to help stay secure from threats. Ransomware is a very real threat and one that can cripple a business financially and reputationally. During this online event, CYFOR's cyber security experts will explore the anatomy of ransomware attacks and clearly discuss relevant topics that include detection, recovery, remediation and prevention methods, without any technical jargon.
Who will benefit from attending this business cyber security webinar?
This webinar is aimed at any business, from SMEs to large corporate businesses. Any organisation that wants to take its cyber security posture seriously, understand the very real threat of ransomware and how best to protect itself.
How do I attend this webinar?
Register to attend our online event by clicking the Eventbrite link below.
A Zoom link will be sent to you on the day.

If you have any questions, feel free to ask them in the Q&A section.

We will collate all questions and be sure to answer as many as possible at the end of the session.

Register today as places are limited.