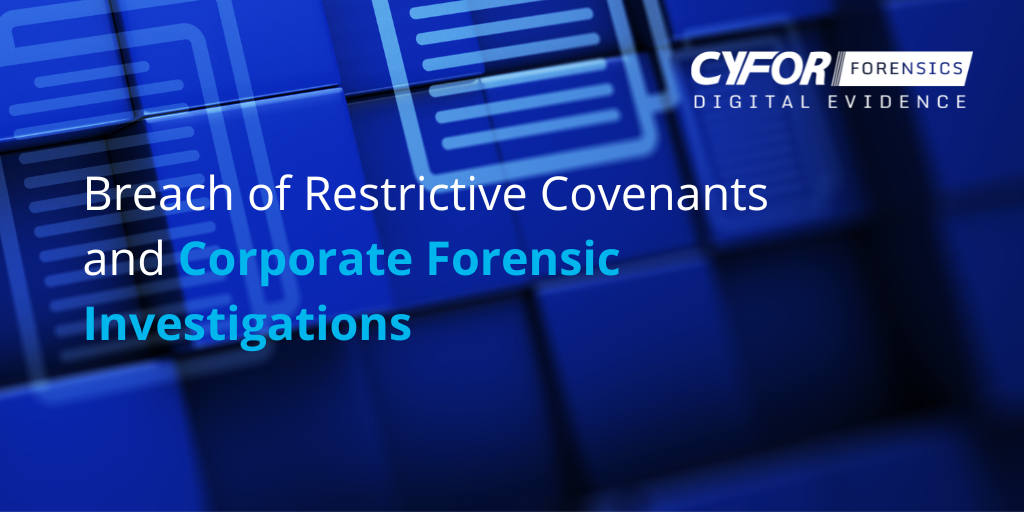 Breach of restrictive covenants can warrant the application of corporate forensic investigations in order to retrieve the necessary digital evidence for legal proceedings.
All businesses possess some form of intellectual property that is considered integral to their competitive success. Placing restrictions on this information after an employee's contract has ended may be of critical importance to ensure the protection of your business data and client database.
A former employee who has access to your intellectual property, client databases, technology or strategic market information is an attractive asset to a competitor. Furthermore, an ex-employee or even a group of ex-employees may seek to start their own competitive business, utilising their former employer's client databases or proprietary information. To combat such behaviour, employers protect the use of this information during and after employment using restrictive covenants.
What are restrictive covenants?
A restrictive covenant is a specific clause placed within an employment contract. This prohibits an employee from competing with his former employer for a certain period after they have exited the business. The restrictive covenant is also designed to prevent the ex-employee from soliciting the client base of the business by using knowledge and acquired data gained during his prior employment. These clauses are typically incorporated into the employment contracts of highly skilled or senior colleagues with access to sensitive company information. The incorporation of these clauses into employee contracts is designed to deter a breach of restrictive covenants.
Variations of restrictive covenants
The standard variations of restrictive covenants which can be used by employers are:
non-competition covenants – these place restrictions on the former employee working in similar employment for a competitor;
non-solicitation covenants – these prevent the poaching of clients/customers/suppliers of the former employer;
non-dealing covenants – prevent an ex-employee from dealing with former clients/customers/suppliers, regardless of which party approached the other;
non-poaching covenants – prevent an employee from poaching former colleagues.
Team moves
A team move involves two or more employees of the same employer leaving to either set up a business on their own account or join one of their current employer's competitors. Such a move is usually planned beforehand and may have been solicited by the new employer as they endeavour to poach teams of employees from profitable parts of their competitors' businesses. Restrictive covenants will usually feature heavily in team move litigation if they are included in departing employees' employment contracts.
Corporate Forensic Investigations
The potential risk companies are exposed to by an employee breach of restrictive covenants is huge. CYFOR can assist in protecting the integrity of business data by reducing the impact of 'bad leavers' with specialist Corporate Forensic Investigations.
Being recognised as true leaders in this niche area of investigation, our team are vastly experienced and aware of common patterns of behaviour, the mechanics of different storage platforms and devices, and the way in which individuals attempt to cover their tracks, and the traces they leave behind. Our reports provide a comprehensive, explanatory narrative to tie in all the relevant data identified.
Whether it is an individual who has colluded with a third party to disseminate confidential information or a departing employee who has taken client/customer data with them to achieve a competitive edge, we can uncover the hidden audit trail left behind.