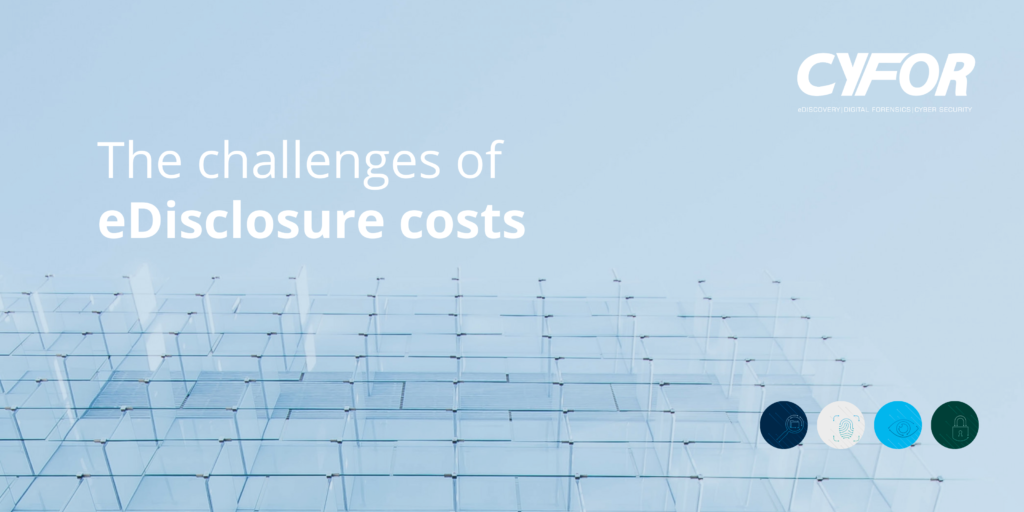 By Emmeline Pidgeon | eDiscovery Case Manager
There are numerous challenges associated with eDisclosure costs during litigation.
I've met with numerous solicitors across the country to discuss the benefits of using an eDisclosure provider and how CYFOR can assist with litigation, dispute resolution, and investigations. One thing I've learned is that typically, solicitors can be quite reluctant to use external services because there is a lack of clarity on eDisclosure costs.
The Per Gigabyte Model
Often solicitors will only know the true price of the service once all the data has been collected and, the estimations of data volumes can be inaccurate. As the collection and hosting of data are done on a per GB rate, if the collection is much larger than expected, the eDisclosure costs associated with the requirement can increase significantly. This lack of clarity on cost comes from the business model adopted by most eDisclosure providers. Typically, eDisclosure providers charge a per gigabyte rate for collection and hosting of documents and this causes issues for several reasons.
Firstly, it's extremely difficult to predict exactly how much data will be collected for a requirement. Therefore, the estimated total to be collected is usually a best guess and there are no guarantees that the collection won't double or triple the volume. Once the estimate for the collection is provided, the solicitor must then instruct the eDisclosure provider to make a forensic collection. Often the devices and sources of electronically stored information (ESI) that must be imaged (this is an exact forensic copy of the original data), will on average result in the collection of around one Terabyte of data. That's if you need the phone, email accounts, laptop, server data, deleted and archived emails and any other external storage like USBs or hard drives.
Once the data is collected, the provider will begin processing the data and may charge a per gigabyte rate to do this. However, if the volume is bigger than expected then the client may have a considerable addition to their costs on the outset. It's worth noting that typically when providers begin processing data, on average it will usually be reduced by up to 90%. This is because a full collection for a custodian will include multiple iterations of the same data stored on devices, a good example are emails.
The email account will contain the majority of the emails however, the laptop/server collection will also contain all emails. They both need to be collected as any documents stored on the laptop are required. Once the data is processed, duplicated emails and other none relevant documentation is removed, this can include system files and non-user generated documents and is often a large portion of the total collection. When the data is processed, keywords and date ranges are applied and the responsive data is hosted on a review platform, which is also charged at a per gigabyte basis.
A point I frequently mention to solicitors is that the value of litigation doesn't necessarily correlate to how much data there is to be collected.  Therefore, matters, where this service may provide significant benefit and increase the efficiency of the review, are often not used because the cost is disproportionate. Also, with the per gigabyte model, solicitors and their clients are hoping that the volume of data collected isn't bigger than initially estimated. Furthermore, solicitors have often already instructed the provider before they know the full cost of the collection.
CYFOR is different. From the outset we want solicitors and their clients to have as much clarity as possible on their eDisclosure costs. That is why we provide fixed priced quotations that include all aspects of work at the beginning of the requirement. We are happy to quantify data collections per custodian meaning that as long as it's related to that person, we will collect it.
For data collections, CYFOR charges a day rate. Our investigators are provided with onsite forms that detail the sources of data and devices. They will work a full 8-hour day and collect as much as possible. For the collection of server data, often we can have this running overnight and complete in the morning. We include 8 hours of time for one of our experts to process and prepare data, this is very often more than enough time to get the data ready to be hosted.
In relation to hosting, from the outset, we will provide a limit of how much processed data can be applied to the platform. As long as you remain within that limit, there is no additional cost. CYFOR will always include an allocation of project management to apply keywords, run search terms and create productions.