Lawrie Hall, Head of Civil Litigation and eDisclosure at CYFOR, recently spoke at the Law 2014 civil litigation conference at The Lowry Hotel in Manchester. Lawrie Hall's presentation, entitled: eDisclosure – What Lawyers Need to Know, was delivered to a conference of 80 litigators.
Lawrie was invited to present an introduction to eDisclosure, a subject of which many lawyers still have only a passing understanding. The talk was specifically designed with commercial litigators in mind, addressing the specific challenges they face: the increasing scale of data that they have to review, how to ensure the evidence is forensically sound and admissible if needed in court, cost proportionality and the features and benefits of using an online review platform.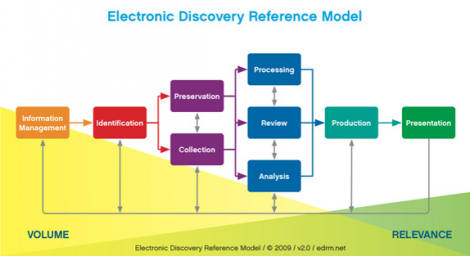 One of the highlights of Lawrie's' talk was his explanation of The Electronic Discovery Reference Model (EDRM) which is the industry-accepted conceptual view of the eDisclosure process that outlines the steps that companies follow when performing electronic disclosure. The talk was made even more practical by reference to real-world examples of how CYFOR observe the model on a range of cases involving many hundreds of thousands of documents and smaller matters of just a handful of emails, and methods that lawyers specialising in the field and eDisclosure practitioners now consider the best practice.
Copies of Lawrie's presentation materials are available from CYFOR. Lawrie Hall is available for speaking engagements.
More in DE-CYFOR
Lawrie Hall, Head of Civil Litigation and eDisclosure, speaks at Law2014 civil litigation conference