Secure your business infrastructure with Penetration Testing
Cyber-attacks can cost organisations vast sums of money, valuable data and in extreme cases cause terminal damage. Penetration testing is one way of combatting this malicious activity. CYFOR provides a range of advanced penetration testing services that include rigorous assessments of your organisations network. This is with the aim of exposing vulnerabilities and weaknesses within your systems and their potential exploitation. The extensive reporting provided by our cyber security experts includes executive summaries and detailed technical recommendations to enhance the level of existing security within your organisations networks.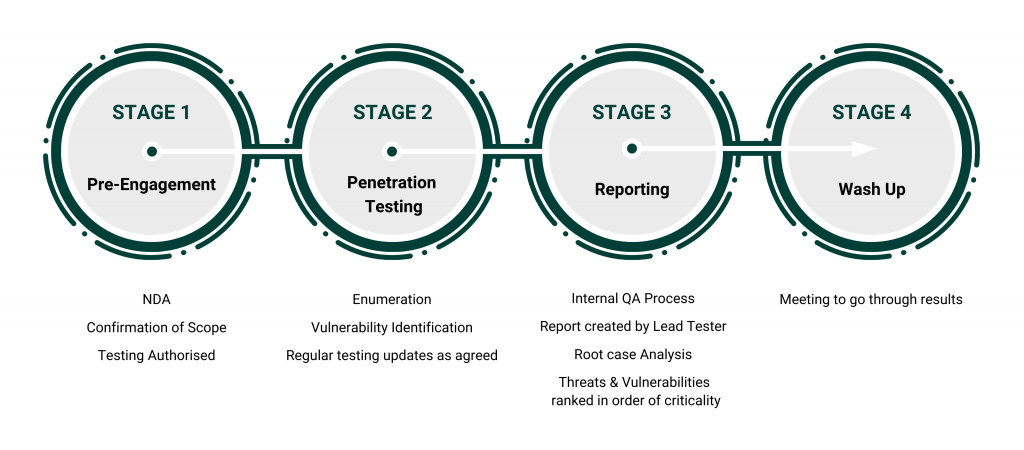 What is Penetration Testing?
A Penetration Test (also referred to as a 'Pen Test') is an assault on your organisations network with the aim of testing the ability of your systems to withstand a cyber-attack. The test is executed in an ethical manner so as not to disrupt your actual business operations, while actively identifying exploitable system weaknesses. Once identified, remediation techniques can be applied to address these vulnerabilities and secure your IT infrastructure.
Benefits of a Penetration test?
An extensive test will identify and produce a list of exploitable vulnerabilities, allowing an organisation to apply remediation measures as soon as possible. These implemented measures will then enhance the overall security of an organisations data, assets and infrastructure. Applying a vulnerability test demonstrates a commitment to external and internal stakeholders as well as obliging to the latest security requirements, protecting your brand reputation. You will be safe in the knowledge that your organisations systems have been rigorously tested and that the highest level of security is in place to fend off cyber-attacks.