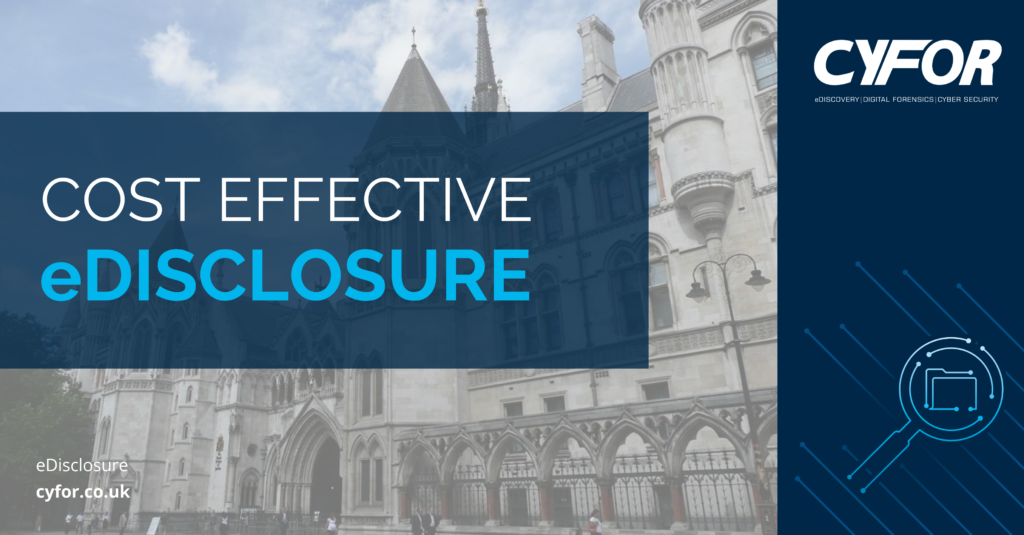 Do you require an online review platform to assist your litigation or dispute resolution matter, but are worried it will be cost-prohibitive? CYFOR have designed a cost-effective eDisclosure solution.
During his reforms, Lord Justice Jackson criticised the lack of cost-effective eDisclosure exercises. He cited that,
"relatively few solicitors and even fewer barristers really understand how to undertake eDisclosure in an effective way".
This is a growing issue as the prevalence of electronic communication on even small projects continually increases. Controlling the costs of an eDisclosure exercise from the outset is paramount.
Cost-effective eDisclosure Solution
To combat this issue, CYFOR has designed a bespoke workflow to provide cost-effective eDisclosure.
This low-cost solution has been specifically created to accommodate simple reviews under tight timeframes, while maximising speed and efficiency, without sacrificing review quality. Data is not charged on a per gigabyte (GB) basis and we aim to upload all data to our online platforms within 24 hours. We also provide the ability to remotely upload data onto our Secure FTP, enabling the ability to upload data electronically. We can then download and process into Relativity, in a quick and timely manner.
The documents are made available within a streamlined workspace for reviewers to access. Workspaces are completely customisable dependent upon the requirements of the case. Our project managers, all Relativity Certified Administrators, work closely with you to determine the most suitable way to set up the workspace and provide advice on the best workflows to carry out the review. CYFOR also provide training to divulge all the software's benefits and to give you the confidence in using the review tool in the most effective manner. Relativity offers features such as de-duplication, ability to date range and keyword search and run analytical features such as email threading, clustering and finding textual similar documents.
Benefits Overview
Fixed fee, low-cost solution.
Data is not charged per gigabyte (GB).
Complimentary Relativity training, for all reviewers, either remotely or at your offices.
Aimed for simple reviews under tight timeframes.
Combines the accuracy and analytical power of the software, while paying a fraction of the cost.
Remote data upload via Secure File Transfer Program (S-FTP) to act quickly.