eDiscovery Training Seminars
28th July 2017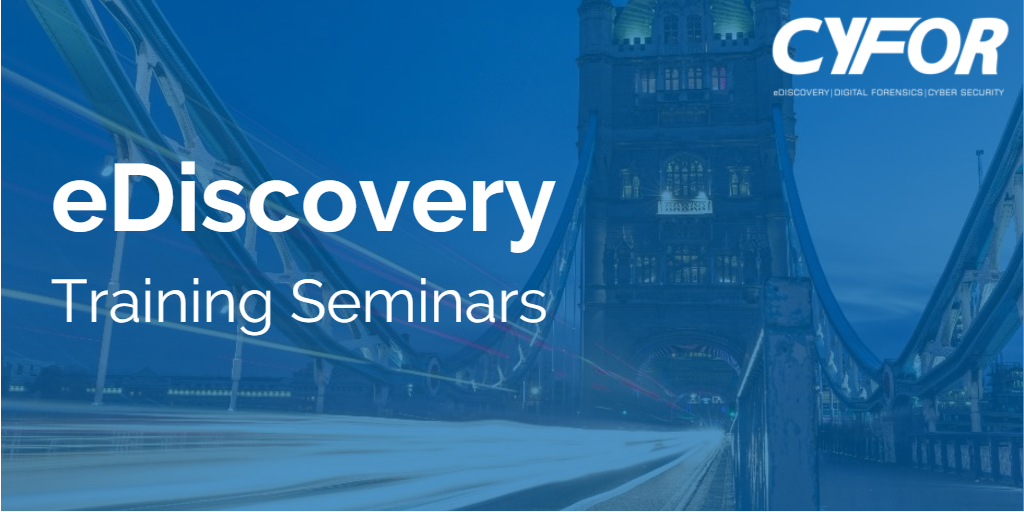 ---
Our educational training seminars keep you ahead of the curve with eDiscovery
---
Exploring the most important eDiscovery trends
Vast amounts of electronically stored information now exist in every organisation.  Should you need to find pertinent emails or documents in response to a litigation or regulatory enquiry, where would you start?
CYFOR offer bespoke eDiscovery training seminars that offer your firm a detailed insight into eDiscovery. Our seminars break down the component parts of electronic discovery and demonstrate how it can be instrumental to your case. These educational sessions typically last an hour and are arranged entirely at your convenience. They can be held at your premises, perhaps as part of your monthly meeting or as a breakfast/ lunch briefing.
Seminar Topics
Finding that elusive 'needle in a haystack' can be an extremely time consuming and expensive task.
Our eDiscovery specialists are on hand to discuss the eDiscovery work flow—from forensic data collection to the production of responsive documents and cover topics such as the following;
Examining the Electronic Discovery Reference Model (EDRM)

How to manage your electronic information

The importance of forensic methods for data preservation

The advantages of using eDiscovery software

Understand the basis of eDiscovery and where it fits into legal process

Have an understanding of the EDRM, what suppliers/lawyers need to do at each stage and the various technologies that can assist.

Have explored the requirements for budgeting

Understand the main requirements for collection, processing, review and analysis.

Be aware of the common pitfalls along the way, key issues to focus on

Participate in a workshop exercise to consolidate knowledge and assure key principles have been absorbed

Gain an understanding of current hot topics

eDiscovery Vs eDisclosure

What lawyers need to do at each stage of the EDRM

Requirements for collection, processing, review & analysis
To enquire about our eDiscovery Training Seminars, please contact us on +44 (0) 207 438 2045 or email contact@cyfor.co.uk