CYFOR is a specialist in eDisclosure, eDiscovery and litigation support services. Operating globally, we offer full electronic discovery services to support law firms, corporate and government agencies and have vast experience of working within these sectors.
Whether it's called eDiscovery in the United States or eDisclosure in the United Kingdom, the process of litigation – sharing evidence prior to trial is essentially the same.
With the advent of the digital age, a new name for the process involving evidence in digital form is required. Cue the growth of eDisclosure: the job of disclosing digital information, also known as Electronically Stored Information (ESI). Given its nature, the ESI may be held in numerous formats across multiple locations and jurisdictions (including the cloud).
As an independent eDisclosure and eDiscovery provider, we experience minimal conflict in cases. With offices in key locations across the UK we are well placed to conduct forensic collections and provide onsite services at a moments notice.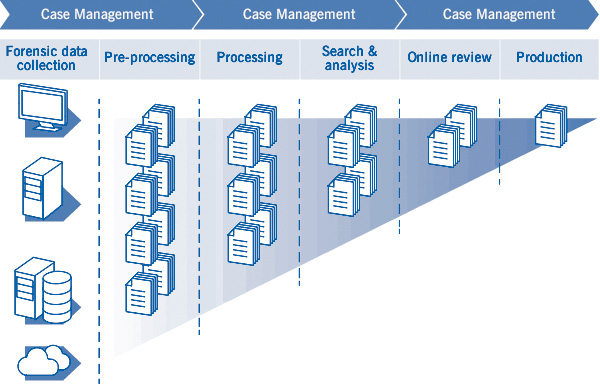 CYFOR offers the following eDisclosure, eDiscovery and litigation support services:
Forensic data collection
Search and analysis
Online review and hosting
Production
Case management
Phonetic disclosure
Audio data management
Print, export and production
We are experts in handling client's data and have industry approved policies and procedures in place. We understand the importance of security in both our corporate practices and in the work undertaken for clients. Our ISO 9001 and 27001 accreditations pay testament to our dedication and commitment to exceeding client expectations.
Strong partnerships and full certification with 'best of breed' eDisclosure software vendors, Relativity, Clearwell and Nuix, enables CYFOR to provide a full suite of services for the disclosure of electronically stored information (ESI).
CLICK HERE to view our eDiscovery services