eDisclosure
---
Combining dynamic litigation support with digital forensic expertise.
---
Whether it's called eDiscovery in the United States or eDisclosure in the United Kingdom, the process of litigation – sharing evidence prior to trial is essentially the same.
CYFOR are leading specialists in eDisclosure, eDiscovery and litigation support services. Operating globally, we offer full electronic discovery services to support law firms, corporate and government agencies in litigation and regulatory disputes.
As an independent eDisclosure provider, we experience minimal conflict in cases. With multiple offices across the UK and Ireland, we are well placed to conduct global forensic collections and provide onsite services at a moment's notice.
Having operated in this space for over a decade, we are experts in handling client's data and combine our vast digital forensic expertise within litigation support. Our eDisclosure service is scalable and provides you with a proportionate, defensible and repeatable solution. CYFOR is able to provide the tools and managed services to ensure your eDiscovery requirements are met.
---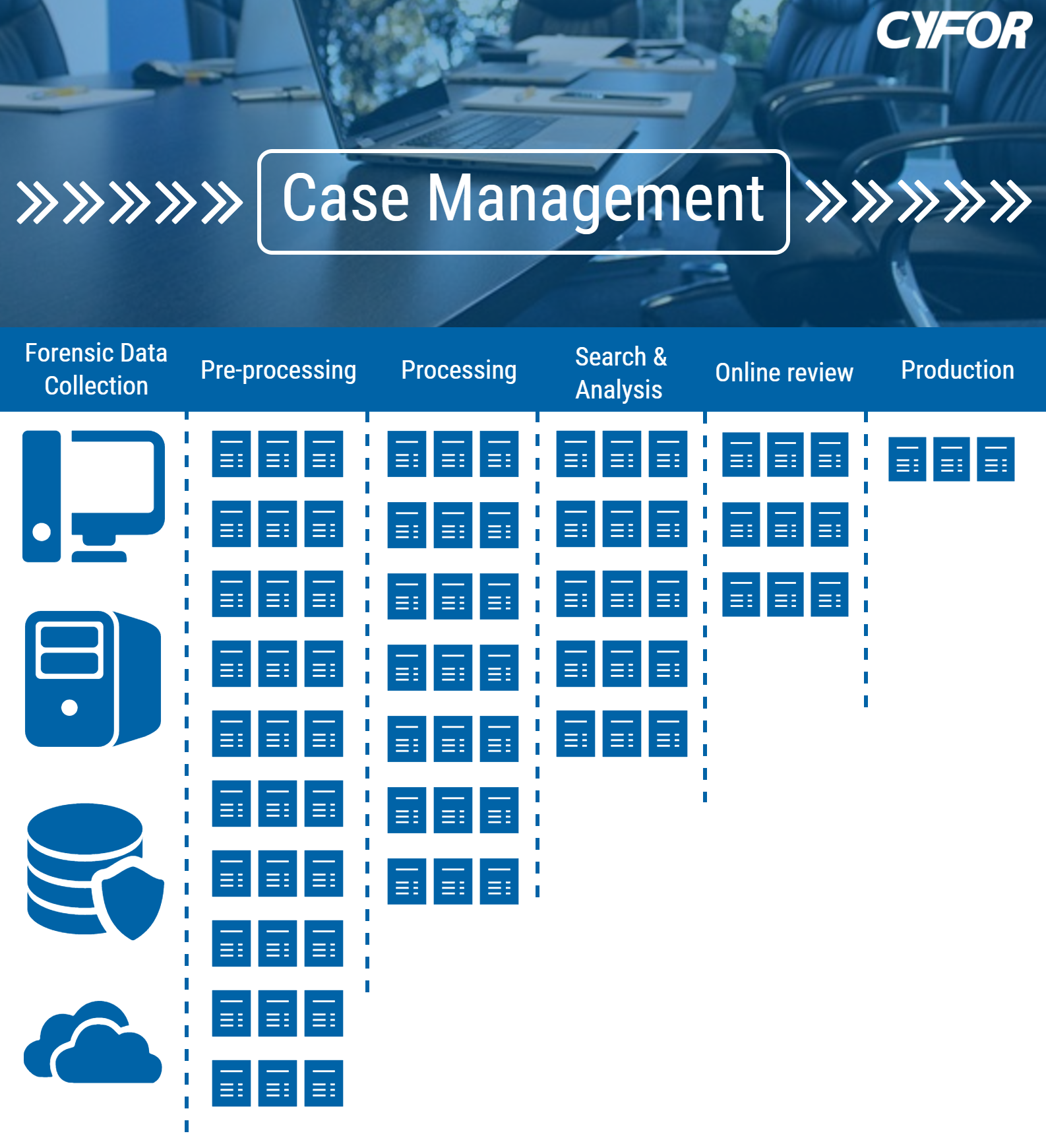 ---
We are experts in handling client's data and have industry approved policies and procedures in place. We understand the importance of security in both our corporate practices and in the work undertaken for clients. Our ISO 9001 and 27001 accreditations pay testament to our dedication and commitment to exceeding client expectations.
Technology Partners
Strong partnerships and full certification with 'best of breed' eDisclosure software vendors, Relativity, Clearwell and Nuix, enables CYFOR to provide a full suite of services for the disclosure of electronically stored information (ESI).
eDisclosure Key Benefits
Effectively collect suspect data from relevant data sources in a forensically sound manner

Rapidly analyse large volumes of electronic documents to gain insight into case facts and determine case strategy, reducing the cost of organising and analysing data. 

Provide detailed data metrics at the onset of a case, enabling accurate estimation of case budget and timeline. 

Present results to clients quickly using an intuitive web based application.

Eliminate the manual review of irrelevant data, reducing the duration of each case. 

Consolidate the entire eDisclosure process using a single application that eliminates moving data between disparate tools. 
---
Litigation Readiness Planning
Litigation Readiness Planning involves the strategic development of best practices and operating procedures to facilitate the control of an organisation's electronically stored data (ESI) and potential evidence. Organisations need entrenched and secure processes to meet preservation, collection, and production responsibilities.
Effective litigation readiness improves response times, reduces disruptions to your business, and reduces the impact that eDisclosure has on the final costs of litigation. Litigation readiness also improves the overall discovery process and lowers the risk of evidence tampering.
An LRP can streamline processes as well as inform on the best practice for collating and providing data to regulatory bodies. Often those under investigation will, in an attempt to show compliance and cooperation, hand over far more of their data than is obligatory. An LRP outlines what must be disclosed and what you are able to legally withhold, as well as govern data to make it easily accessible. During a raid if anything can be done to decrease the time a forensic team needs to spend on time then it will lessen the impact on your business in both the short and long term.
The effective governing of data through an LRP aggressively uncovers the weaknesses attributed to developments in technology and teaches an internal web of 'first responders' how to react should a breach take place. This saves valuable time, ensures immediate action is taken to resolve the breach and identifies what data has been compromised in order execute a damage limitation plan.
Why CYFOR?
Commercial disputes, although increasingly a fact of life, can be extremely damaging to a company's reputation.  In many cases settling these disputes through litigation, mediation or arbitration may involve digital evidence.
CYFOR is well placed to forensically investigate all digital media in dispute cases including employment, bribery and corruption, intellectual property, fraud and insolvency, and product liability.  CYFOR are also able to provide an effective eDisclosure solution should the case progress to litigation.
---